Over time, Asphalt  degrades due to numerous factors, including wear & tear, overuse, harsh weather, and exposure to the sun. To avoid or prolong the need for expensive replacements after years of usage, many property owners rely on sealcoating! Sealcoating, or pavement sealing, is the process of applying a protective coating to asphalt-based pavements to provide a layer of protection from the elements, the freeze and thaw cycle, water, oils, and U.V. damage.
Sealcoating accomplishes this by slowing down the oxidation process, filling and sealing small cracks to increase the life span of the asphalt.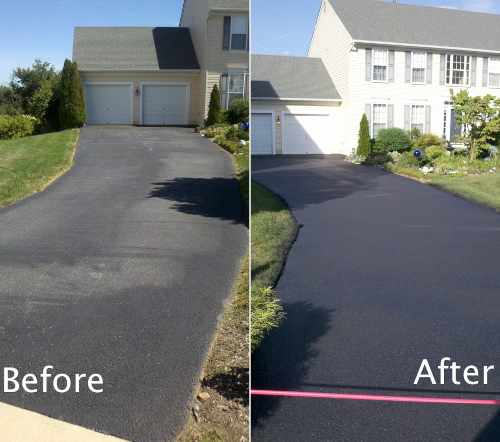 When Is Sealcoating Required?
 In general, sealcoating of pavements and driveways is recommended every two years based on the aging of the asphalt. However, this number greatly depends on the conditions of the pavement and the amount of traffic it experiences on a regular basis. If you can see the colors of individual stones in the asphalt it's certainly time to reapply a sealcoat to it. If you think it might be time to reseal but aren't quite sure, contact us to set up a time to evaluate your pavement and provide you with an estimate on the work needeed!
Paving Professionals uses the highest quality sealer available. Our Black Diamond XL asphalt sealer is a new, high performance alternative to asphalt emulsion (AE) sealer and refined tar sealer. This sealer exceeds asphalt emulsion (AE) sealer durability, is more resistant to power steering marks, and has a richer darker finish. Furthermore, Black Diamond sealer is fuel and oil resistant! Making it the longest lasting sealer on the market. When we do any job, we believe it should be done right the first time. Let us show you why we are regarded as the best sealcoating and striping company in Raleigh!