Over time, Asphalt degrades due to numerous factors, including wear & tear, overuse, harsh weather, and exposure to the sun. To avoid or prolong the need for expensive replacements after years of usage, many property owners rely on sealcoating.
Sealcoating is the process of applying a coating to asphalt-based pavements to provide a layer of protection from precipitation, the freeze-and-thaw cycle, water, oils, and U.V. damage.
Sealcoating accomplishes this by slowing down the oxidation process, filling and sealing small cracks, and protecting the pavement and road base from water, oils, and weather to increase the life span of the asphalt.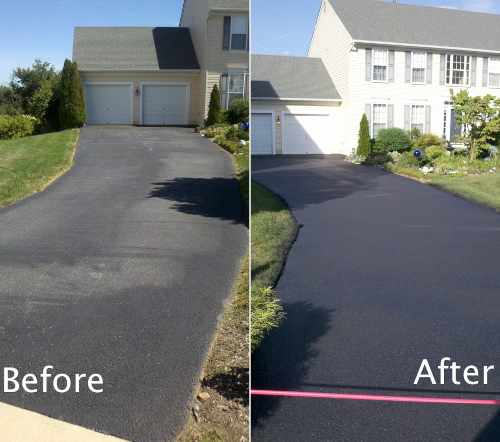 When Is Sealcoating Asphalt Pavement Required?
Knowing when to seal or reseal pavement can be challenging for many business owners. Sealcoat too often, and it will result in an unattractive flaky coating. Not often enough, and the pavement will degrade requiring repairs, or even being repaved. As a general rule, if you can see the colors of individual stones in the asphalt, you need to reapply a seal coat to it.
If you think it might be time to reseal the pavement but aren't quite sure, contact us to set up a time to evaluate your pavement and we will provide you with a free estimate on the work needed.
Asphalt versus Coal-Tar Sealants
Traditional, coal-tar sealants contain high levels of toxic chemicals that can cause cancer and environmental harm, including, polycyclic aromatic hydrocarbons, or PAHs.  PAHs are toxic compounds that have been linked to cancer in humans and are poisonous to aquatic life. ConsumerNotice.org recently published a free guide that discusses the associated health risks and safe removal and alternatives to coal tar sealant.
Instead of toxic refined coal-tar sealants, Paving Professionals uses asphalt sealers.  Not only do we use this safer sealant type, but our Black Diamond XL asphalt sealer is a new, high-performance alternative to the usual liquid asphalt emulsion (AE) sealers used by most contractors and is of the highest quality available.
Black Diamond XL sealer exceeds asphalt emulsion (AE) sealer durability, is more resistant to power steering marks, and has a richer darker finish. Furthermore, Black Diamond sealer is fuel and oil-resistant making it the longest-lasting sealer on the market. 
How Long Does Our Sealcoat Last?
In general, seal coating of parking lots is recommended every two years based on the aging of the asphalt. However, this time frame varies depending on the pavement conditions, the volume of traffic it experiences on a regular basis, as well as the amount of water and oil it is exposed to.
Because of Black Diamond XL sealer's quality and durability and our meticulous cleaning and prep work a Paving Professional's seal coating typically lasts anywhere from 2 to 5 years and beyond depending on its care.
How Much Does Sealcoating A Parking Lot Cost?
The cost to seal coat parking varies greatly and is affected by the condition of the pavement and how much repair work is required before seal coating can be applied, the size of the parking lot, and the number of days it takes to complete the job.
Typically, our crew can spray around 7,000 to 12,000 square yards per day. However, for complex site jobs such as apartment parking garages, days to completion will be extended due to having to coordinate ongoing parking accessibility while the work is being done. 
Do I Need To Hire A Sealcoating Company?
Home and business owners may consider applying seal coating treatments by themselves. However, while you may save money in labor in the short term, over the long term, it could end up costing you more.
Professionally applied seal coating begins with pavement prepwork. We begin by assessing the pavement condition, ensuring its underlying integrity, repairing cracks and potholes, and filling in depressions.  The pavement is then cleaned to ensure proper adhesion.
Additionally, we have the tools and equipment needed to get the job done. Purchasing or renting equipment can cost you much more than hiring a professional sealcoating company.
In short, professionals will get the job done right, ensuring the durability of the seal coat so that your pavement is preserved and prevents the need for more costly repairs in the longer term.
When you are ready to get started with your project, contact the team at Paving Professionals, Inc. We look forward to helping you! 
All Paving Professionals jobs are done right the first time. We only use the best quality materials on all our projects.  Let us show you why we are regarded as the best seal coating and striping company in Raleigh! 
We provide sealcoating services within a 70-mile radius of Raleigh, NC. Some of the cities we serve include, but are not limited to:
Apex, Angier, Auburn, Benson, Burlington, Butner, Cary, Chapel Hill, Clayton, Clinton, Creedmoore, Danville, Durham, Elm City, Fayetteville, Fuquay Varina, Garner, Goldsboro, Greensboro, Henderson, Hillsborough, Holly Springs, Knightdale, Mcgee Crossroads, Meban, Morrisville, Pinehurst, Pittsboro, Red Oak, Rocky Mount, Rolesville, Sanford, Smithfield, Tarboro, Wake Forest, Willow Springs, Winston Salem, Wilson, Williams Crossroads, Wendell, Zebulon, and many more!